UPCOMING AND ONGOING EVENTS
CB=Community Building; PH-Parish Hall.
Jump to:
Lent and Holy Week
Music and Reflection programs for Lent:
Sunday, March 24 at 4 pm: HeartSong will be joining us, sharing songs of comfort and peace.
Sunday, April 7th at 4 pm: Taize music with Peter Yanz, song leader & Peter Saladino, piano. All are invited to participate in the singing of the Taize pieces.
Thursday, April 18th at 7:00 p.m. Maundy Thursday This Tenebrae service will include Communion, readings, and the extinguishing of candles.
Friday, April 19th Good Friday from 12 - 6:00 p.m The church will be open for prayer and quiet reflection
Sunday, April 14: Sixth Sunday of Lent / Palm Sunday
Worship at 9:30 a.m. Pastor Barnum.
Sunday, April 21: Easter Sunday with Pastor Barnum and the Wing and a Prayer, Choir
Worship at 9:30 a.m.
Hook-in on Saturday, March 30, 2019 (snow date: Saturday, April 6, 2019)
Come spend the day with fellow hookers!
Enjoy a day of fellowship, camaraderie and creativity.
Water, coffee, tea and some snacks provided.
Feel free to bring your lunch and additional snacks.
Door prizes!
Questions? shoekstra@hotmail.com or call 908-509-1475 (Ask for Susan)
Seating is limited to 66 people.
Registration form PDF to print out: Hook-in RegistrationForm
Special Events in April
Thursday, April 11th from 1:30-3:00 p.m. in the CB
The Palliative Players of Hospice Volunteers of Waldo County present End Stage.
Advance health care planning; are you wondering why it is important? Are you procrastinating having the conversation with those closest to you? Unsure of how to start that discussion? Join us, the Palliative Players, at our performance of End Stage. Through improvised, unscripted role playing, we act out possible end of life scenarios and conversations. We explore decisions and wishes that might arise in a health crisis at the end of life, and offer suggestions for talking with loved ones. Afterwards, we will walk you through the advance directive and some of the common sticking points. You will have a chance to ask questions and learn how to get help filling out your advance directive. Who knew that learning about your advance care planning options could be so entertaining? Bring your family and friends, it is important information that everyone should have. This event is free and open to the public.
Saturday, April 13th 10:00 a.m. until 2:00 p.m.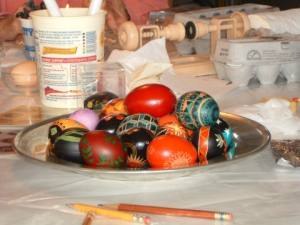 Annual Pysanky (Ukrainian Egg Decorating) Party In the CB.
Dyes and tools provided; participants bring uncooked eggs to decorate.
Wax resist technique using colorful aniline dyes. Come join the fun!! Suggested donation: $10-15 per family.


Soup Cafes - CB
Thursdays at noon Come, have a bowl of soup with us, enjoy the company of your neighbors and listen to or maybe sing along with the drop-in musicians. Come early, the soup goes fast! There is no charge, but donations of any size are appreciated. To help out or make soup, bread or dessert, contact Roberta Heald or Lois Lyman. A few Soup Cafe musicians and singers below, harmonizing on God Bless America for Veteran's Day.....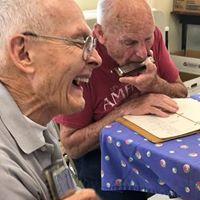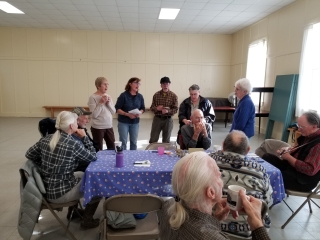 AA Meetings - CB unless otherwise marked
Open meetings: Tuesdays & Fridays at 12:15 p.m. and Sundays 6:00 p.m.
Meditation Meeting Wednesdays at 9:30 a.m. in PH
12 &12 meeting: Wednesdays at 6:00 p.m.