UPCOMING AND ONGOING EVENTS
CB=Community Building; PH-Parish Hall.
Jump to:
Special Advent Music and Reflection 4:00 p.m.
Let's gather in our historic meetinghouse as the sun sets for a contemplative program including guest musicians, seasonal readings and moments of quiet reflection, led by Rev. Elizabeth Barnum on the next few Sundays:.
December 2 at 4 PM: Celtic Harpist Alex Bigney
December 9 at 4 PM: Talented instrumentalist and singer/songwriter Kat Logan
December 16 at 4 PM: Taize Service, Peter Yanz as song leader, with Peter Saladino, piano and Mary Schulien, flute
Taize worship has evolved from an ecumenical monastic order located in the French town of Taize, started in 1940 as a shelter for political and religious refugees.
A Taize service includes singing meditation, selected readings, and silent prayer. Singing is an important element of the service. According to the Taize community, "The singing expresses a basic reality of faith that can quickly be grasped by the intellect and that gradually penetrates the heart and the whole being."
The service will be led by Revered Elizabeth Barnum, with Peter Yanz as cantor and accompaniment by pianist Peter Saladino and flutist Mary Schulien.
December 24th at 4 PM: Family Christmas Eve candlight service
Hook-in on Saturday, March 30, 2019 (snow date: Saturday, April 6, 2019)
Come spend the day with fellow hookers!
Enjoy a day of fellowship, camaraderie and creativity.
Water, coffee, tea and some snacks provided.
Feel free to bring your lunch and additional snacks.
Door prizes!
Questions? shoekstra@hotmail.com or call 908-509-1475 (Ask for Susan)
Seating is limited to 66 people.
Registration form PDF to print out: Hook-in RegistrationForm
Soup Cafes - CB
Thursdays at noon Come, have a bowl of soup with us, enjoy the company of your neighbors and listen to or maybe sing along with the drop-in musicians. Come early, the soup goes fast! There is no charge, but donations of any size are appreciated. To help out or make soup, bread or dessert, contact Roberta Heald or Lois Lyman. A few Soup Cafe musicians and singers below, harmonizing on God Bless America for Veteran's Day.....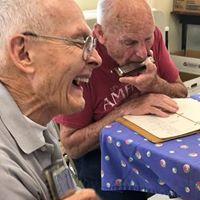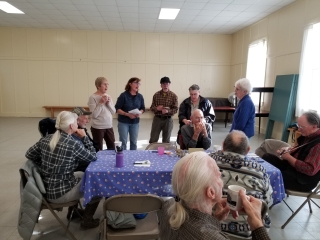 AA Meetings - CB or occasionally the PH
Open meetings: Tuesdays & Fridays at 12:15 p.m. and Sundays 6:00 p.m.
12 &12 closed meeting: Wednesdays at 6:00 p.m.