UPCOMING AND ONGOING EVENTS
CB=Community Building; PH-Parish Hall.
INDOOR FLEA MARKET Saturday, October 15
from 8 a.m. to noon in the Community Building.
There will be a wide array of merchandise: antiques, handcrafts, quality household goods, and puzzles. Church members will be selling sweet and savory baked goods: fruit breads, muffins, scones, cookies and hot items like breakfast casserole, and quiche galore, all packed for take-out.
Special item for this sale: Collection of Letterpress Printing Equipment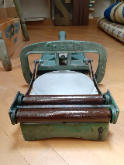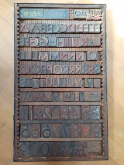 -Adana Horizontal Quarto flatbed table top hand-operated printing press, made in England
-Four type cases with entire fonts of intact metal type
-One type case with a nearly complete set of wood type
-An antique wooden bookbinding sewing frame
An antique metal nipping press
A selection of wood type—random sizes, letters and numbers
This is not your ordinary flea market.
It's an emporium of curiosities and deliciousness.
Come and check it out! All welcome. Masks are recommended.
Thank you,
Mary Schulien, coordinator
785-3521