UPCOMING AND ONGOING EVENTS
CB=Community Building; PH-Parish Hall.
Jump to:
See photos from the 2018 and other Strawberry festivals here.
Our New Pastor!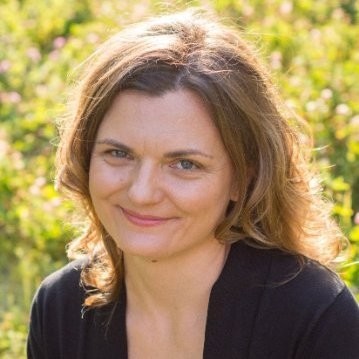 Please see the Our Pastor Page to read about our new part-time minister, Elizabeth Barnum, who joined us on August 1, 2018. She will preach this Sunday, August 12, and will be honored with a welcome reception following church.
Summer Flea Markets! - CB
The sixth season of the Lincolnville Center Indoor Flea Market continues its monthly third Saturday market from 8:00 a.m. to 1 p.m. on August 18th. The market is held in the Community Building. There will be a full house of vendors offering an amazing array of merchandise including antiques, collectibles, hand crafts, rustic chainsaw sculptures, and vintage tools. Members of the United Christian Church, event sponsors, will be selling home baked goods, breakfast casserole, and beverages. All welcome.
FMI: Mary Schulien at 785-3521 or humm@midcoast.com. This event is sponsored by the United Christian Church. Table rental fees benefit the Community Building Fund. Church table income benefits the church. All welcome.
Soup Cafes - CB
Thursdays at noon Come, have a bowl of soup with us, enjoy the company of your neighbors and listen to or maybe sing along with the drop-in musicians. Come early, the soup goes fast! There is no charge, but donations of any size are appreciated. To help out or make soup, bread or dessert, contact Roberta Heald or Lois Lyman. A few Soup Cafe musicians and singers below, harmonizing on God Bless America for Veteran's Day.....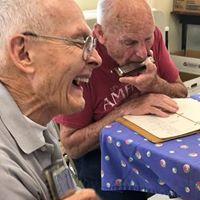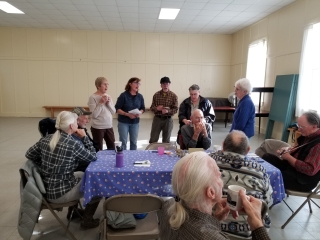 AA Meetings - CB or occasionally the PH
Open meetings: Tuesdays & Fridays at 12:15 p.m. and Sundays 6:00 p.m.
12 &12 closed meeting: Wednesdays at 6:00 p.m.