UPCOMING AND ONGOING EVENTS
CB=Community Building; PH-Parish Hall.
Jump to:
Annual Antiques & GIft Show Saturday, November 17th, 9:00 a.m. - 2:00 p.m.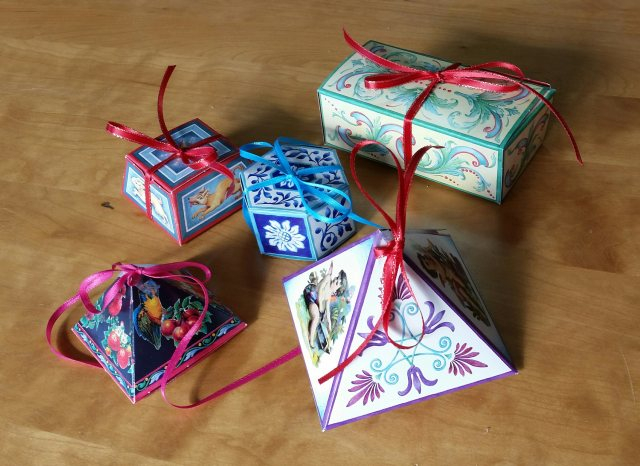 Victorian gift boxesAntiques, handcrafted gifts, delicious preserves and baked goods. Home decorations include houseplants, evergreen centerpieces, and balsam wreaths sold by Lincolnville PTO.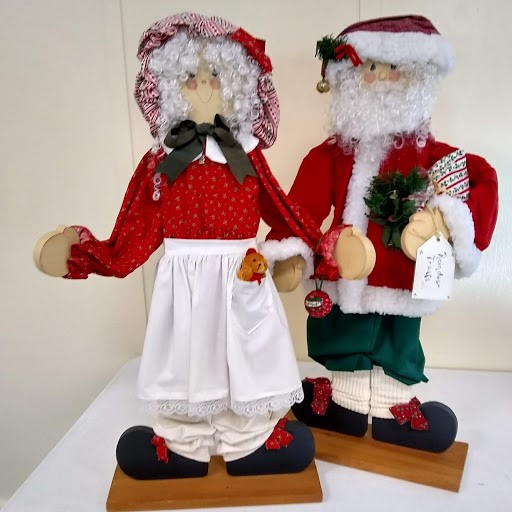 Mr. & Mrs. Santa
An enchanting three-foot-tall Santa and Mrs. Claus, created in 1990 by Nancy Rankin of Camden, has been donated to be sold.
Shoppers are invited to come and find unusual gifts, enjoy home baked treats and a cup of coffee, and visit with friends, all while helping to support the upkeep of Town Meetinghouse, home of the United Christian Church, built in 1821. No admission; all are welcome.
FMI: Mary Schulien at 785-3521 or humm@midcoast.com.
Hook-in on Saturday, March 30, 2019 (snow date: Saturday, April 6, 2019)
Come spend the day with fellow hookers!
Enjoy a day of fellowship, camaraderie and creativity.
Water, coffee, tea and some snacks provided.
Feel free to bring your lunch and additional snacks.
Door prizes!
Questions? shoekstra@hotmail.com or call 908-509-1475 (Ask for Susan)
Seating is limited to 66 people.
Registration form PDF to print out: Hook-in RegistrationForm
Soup Cafes
- CB
Thursdays at noon Come, have a bowl of soup with us, enjoy the company of your neighbors and listen to or maybe sing along with the drop-in musicians. Come early, the soup goes fast! There is no charge, but donations of any size are appreciated. To help out or make soup, bread or dessert, contact Roberta Heald or Lois Lyman. A few Soup Cafe musicians and singers below, harmonizing on God Bless America for Veteran's Day.....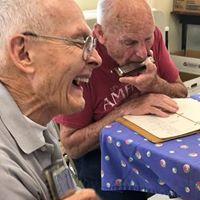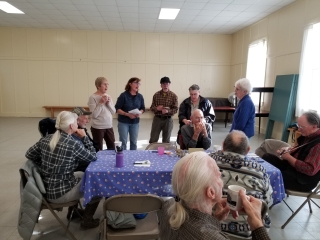 AA Meetings - CB or occasionally the PH
Open meetings: Tuesdays & Fridays at 12:15 p.m. and Sundays 6:00 p.m.
12 &12 closed meeting: Wednesdays at 6:00 p.m.
SEASON'S FINALE tomorrow, Saturday, October 20th, from 8 am to 1 pm held at the Community Building located at 18 Searsmont Road, Rt 173, in Lincolnville Center. There's a great selection of interesting stuff including rustic chainsawed wooden pumpkins and tree spirits, classic children's books, vintage fabrics, puzzles and games to get you through those long winter nights, old tools, Kenyan handcrafts that benefits education and health care for Kenyan kids, and gloriously weird gourds for decorating your home. AND yummy breakfast casserole hot outta the oven and baked goods: applesauce muffins, pumpkin spice cookies, and lemon poppy seed muffins. Put down the broom or the rake, come on down to the Community Building, take a little break, have a cuppa joe, and say "hi" to your neighbors. This event is sponsored by the United Christian Church, the church in the Center built in 1821. (Church tours on request.) Hope to see you!