UPCOMING AND ONGOING EVENTS
CB=Community Building; PH-Parish Hall.
Virtual Strawberry Festival Berry Booster
Soup Cafes - CB
Cancelled durng the Pandemic. Thursdays at noon. Come, have a bowl of soup with us, enjoy the company of your neighbors and listen to or maybe sing along with the drop-in musicians. Come early, the soup goes fast! There is no charge, but donations of any size are appreciated. To help out or make soup, bread or dessert, contact Roberta Heald or Lois Lyman. A few Soup Cafe musicians and singers below, harmonizing on God Bless America for Veteran's Day.....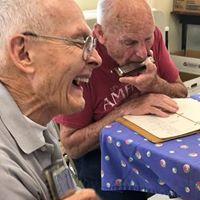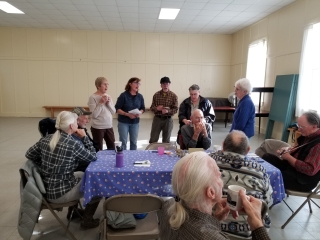 AA Meetings - CB unless otherwise marked
Open meetings: Tuesdays & Fridays at 12:15 p.m. in Breezemere Park pavilion
Sundays 6:00 p.m.
Meditation Meeting Wednesdays at 9:30 a.m. in PH
12 &12 meeting: Wednesdays at 6:00 p.m.