About Our Church
Who We Are
As members of the United Church of Christ (UCC) the members and friends of United Christian Church in Lincolnville welcome all persons, regardless of ethnic heritage, religious background, sexual orientation or gender identity. We worship every Sunday at 9:30, weather permitting, and offer the Lord's Supper on the first Sunday of the month. See below for a description of "Children's Church", available to children every Sunday during regular worship.
Our congregation includes about 100 people from Lincolnville and the surrounding towns, some of whom were born and raised here and others "from away," who have enriched our community by coming to live here. Some of us are here year round and others join us only during the warmer months, keeping in touch via the website, Zoom services, Facebook, and email during the colder months. We vary in age from toddlers to nonagenarians.
We also have an online congregation of members and friends who receive our weekly bulletins and announcements.
NOTE: Wi-Fi is now available in the church and community building. Network name is UCC_Lincolnville_Guest. No password required.
Children's Church
In 2015 we began our Children's Church every Sunday. The children have a brief time in the Sanctuary early in the service, light a candle for peace, and then go into the Parish Hall for lessons and activities that are fun and educational, often with music. This program has been well received and is attended by the children of several families, and often visiting grandchildren.
Outreach and Missions
Our free Thursday noon soup cafes are increasingly popular. These were cancelled during the Pandemic but whould reopen in May We usually have between 10 and 25 folks gathering for soup and conversation. Alcoholics Anonymous uses our facilities for four meetings a week. Both groups draw from Lincolnville residents and those of surrounding towns. See more on the Ministries page.
The church sponsors free services and concerts during the year for the community, including an annual Christmas Eve service, and a candlelight holiday concert by the Mount View Singers. See Our Music for more information about music programs at the church.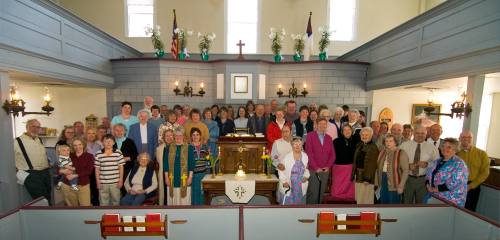 The congregation in 2007