From the pastor
Our little church will welcome our new part-time minister, Reverend Elizabeth D. Barnum , to the pulpit on August 1, 2018.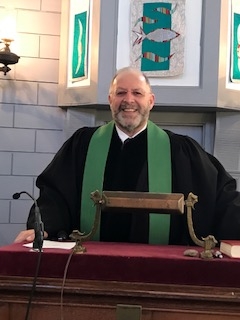 Rev. Dick Hanks
We have been blessed to have Rev. Richard F. Hanks as our
our part-time Bridge Minister since July, 2017. He will be available through the end of July 2018 for pastoral care, conversation, or visitation. He can be reached by telephone at 207-593-8493 (home) or 207-542-2812 (cell); or by email at RFHanks@gmail.com.
Below, see a list of all ministers who will workship with us and preach during our search for a pastor. Join us at 9:30 every Sunday. First Sundays include Communion. Rev. Kate Braestrup joins us almost every month. Rev. Hanks will lead worship services unless otherwise noted.
May - July in the pulpit:
May 27 – Rev. Hanks
June 3 – Rev. Braestrup
June 10 – Rev. Hanks
June 17 – Rev. Hanks
June 24 – Rev. Hanks
July 1 – Rev. Hanks -Communion Sunday
July 8 – Rev. Hanks
July 15 – Rev. Hanks
July 22 – Rev. Braestrup
July 29 - Rev. Hanks