Sermons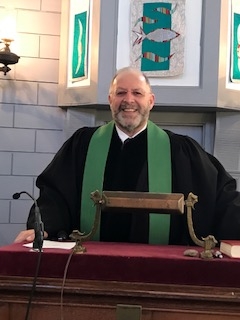 Rev. Dick Hanks
The Rev. Dr. Susan Stonestreet retired as of June 25th. We are blessed to have Rev. Richard Hanks serving as part time bridge minister until the new year. He will be available for pastoral care, conversation, or visitation. He can be reached by telephone at 207-593-8493 (home) or 207-542-2812 (cell); or by email at RFHanks@gmail.com.
Guest preachers who join us from time to time: Rev. Richard Hanks will lead worship. Guest preachers include Rev. Richard Snyder, Rev. Mair Honan, Rev. Kate Braestrup, Rev. Tom Pike, and other clergy. Members of the Board and Deacons occasionally lead worship or preach as well.
Recent Sermons
Below are links to .PDF files of recent sermons and church services that you can download or print. Click on the link for a sermon to bring up a PDF file that you can either download or print. We will display only a month's worth of sermons at a time. For past sermons, please contact the webmistress.
Dec 10 -

Breaestrup Dec10 2017 "Manspreading" (Rev. Braestrup)
Nov 26 -

Hanks Nov262017inall.pdf "In All the Wrong Places" (Rev. Hanks)
Nov 12 -

HanksNov52017wet.pdf "Wet Feet" (Rev. Hanks)
Oct 15 -

HanksOct152017dark.pdf "Dark Valleys" (Rev. Hanks)
Oct 1 -

HanksOct12017.pdf "Between a Rock and a Dry Place (Rev. Hanks)
Sept 24 -

BraestrupSept242017.pdf "Freedom and its discontents" (Rev. Braestrup)
Sept 10 -

HanksSept102017.pdf "We Are the Church" (Rev. Hanks)
Preaching December 2017-Easter Sunday, April 1, 2018
December 3 – Rev. Richard Hanks - Communion Sunday
December 10 – Rev. Kate Braestrup
December 17 – Rev. Dick Snyder as preacher, worship leader TBD CHOIR
December 24 - Rev. Richard Hanks - Worship at 9:30 a.m.
December 24 - Rev. Richard Hanks - Christmas Eve Service 4 p.m.
December 25 – (Monday) Christmas - no service. Merry Christmas!
December 31 – Rev. Tom Pike, Rev. Dick Hanks, service leader
January 7 - Rev. Kate, Rev. Dick Hanks, service leader, Communion Sunday
January 14 – Rev. Dick Hanks
January 21 – Barbara Bentley
January 28 – Rev. Dick Hanks CHOIR
February 4 - Rev. Dick Hanks, Communion Sunday
February 11 – Rev. Kate Braestrup
February 14 – Ash Wednesday – Rev. Dick Hanks
February 18 - Rev. Dick Hanks CHOIR
February 25 – Rev. Dick Hanks
March 4 - Rev. Dick Hanks, Communion Sunday
March 11 - Rev. Kate Braestrup
March 18 – Rev. Dick Hanks CHOIR
March 25 - Palm Sunday - Rev. Dick Hanks
Holy Week - TBA
April 1 – Easter Sunday - Rev. Dick Hanks
April 8 – Jennifer Wixson, preacher, Rev. Dick Hanks service leader