November 16th Antiques and Gift Show
The Sixth Annual Holiday Antique and Gift Show will be held on Saturday, November 16th from 9:00 AM to 2:00 PM in the Community Building located at 18 Searsmont Road, Rt. 173, in Lincolnville Center. The event is sponsored by the United Christian Church (UCC).
The show will feature local antique dealers, crafters, and farmers. There will be a wide selection of unique and affordable products including handcrafted goat milk soaps, balsam wreaths, vintage decorations, and fabric art by Halina. Other featured items include Diane O'Brien's original Advent calendars and knitted hats, Hannah's blueberry products, Sarah Troutman's cinnamon and spice ornaments; and crafts from Kenya, the sales of which support Kenyan schools and healthcare for children.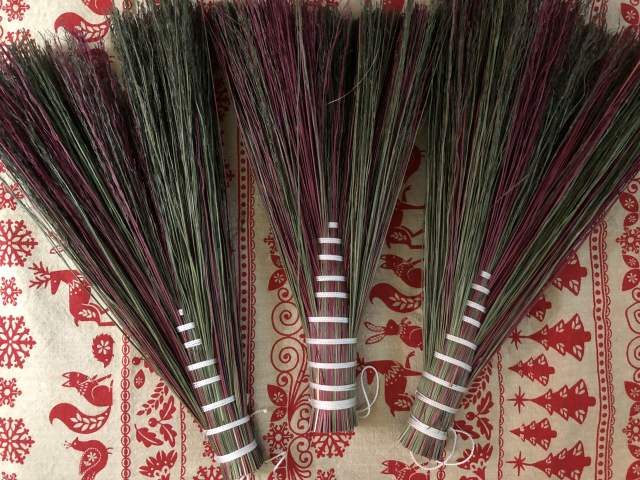 Artisan broom maker, Karen Koch, will offer her practical and beautiful Appalachian brooms [shown at right] and David Smith of Hope will be selling a selection of Sparky's maple syrup, honey, and bees wax candles.
Church members will have several tables of good quality gift items, Christmas ornaments and decorations, Roberta's Heavenly Jams, and homemade quiche and baked goods packed to take home. Refreshments to be sold include coffee cake, cookies, breakfast casserole, quiche, soup, chili and mac and cheese.
The Holiday Antiques and Gift Show is a wonderful opportunity to purchase unique gifts for your loved ones while supporting the local economy and the United Christian Church. Event organizers have been pleased with comments from past shoppers about the welcoming atmosphere and the great assortment of products. A coastal customer said, "This show is such a wonderful surprise and just a short, beautiful drive from town. See you again next year!"
All are welcome. There is no admission fee. There is ample parking and the Community Building is handicapped accessible. For further information call 785-3521.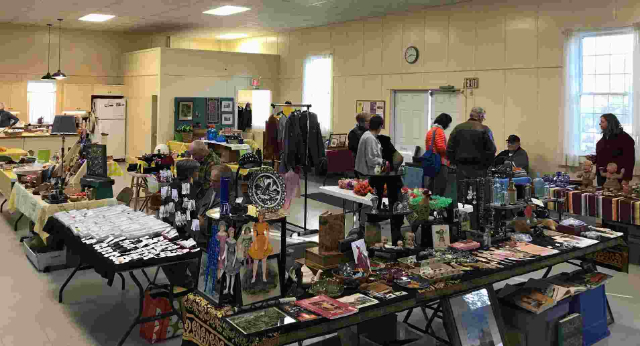 Guests at the October Flea Market