Church Facilities and Rental
If you are interested in using any of our facilities, the first thing you should do is to contact us to reserve your date.
The facilities below all share a circular driveway and parking area. There may also be parking at the telephone office across the street.
The Community Building
Originally built in the 1960s as a youth center, the community building is our largest building for events. A thorough renovation was completed in 2015. The hall includes a non-commercial kitchen, as well as an ADA-compliant bathroom with baby-changing table. The space is a large, open hall that can seat up to 100 people, depending on the event and seating arrangement. The floor, originally reinforced for basketball, is suitable for dances as well as other events and art exhibits. It has one handicapped-accessible restroom. If you wish to serve beer and wine, please consult the alcohol policy from its link below.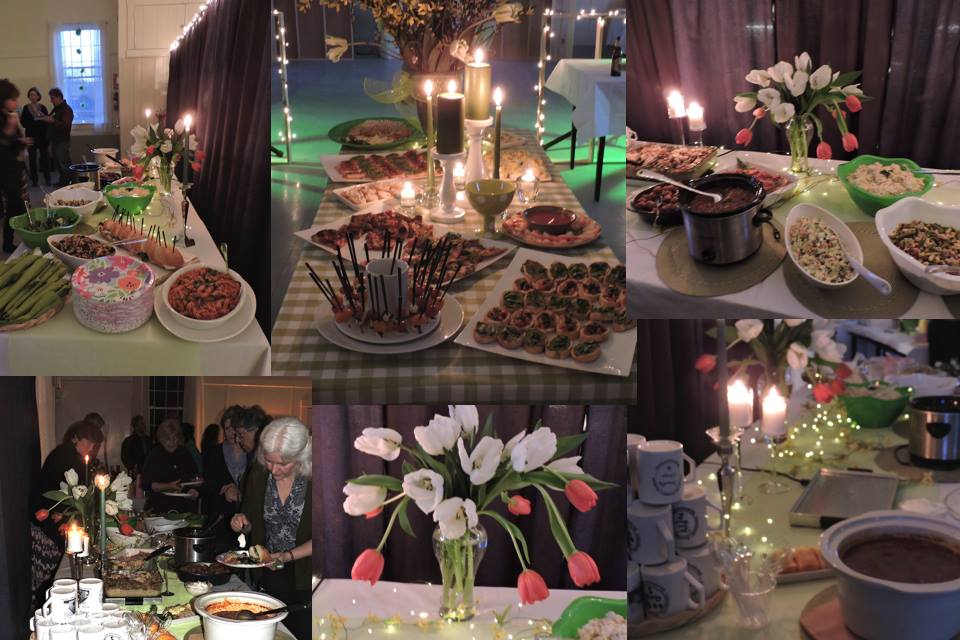 Information on renting the hall is below, and listed on the document links below.
Karin Womer: phone: 763-4782 (eves.); 230-4086 (cell)
e-mail: CB.Hall.Rental@gmail.com
mail: 380 Masalin Rd., Lincolnville ME 04849

Lincolnville Comm Bldng Fact Sheet

Community Bldg Floor plan

Alcohol policy 2018
The Parish Hall
Built in 2005, the Parish Hall adjacent to the church is suitable for gatherings of fewer than thirty people. This room becomes our Children's Church on Sunday mornings.
Besides small receptions, it can be appropriate for non-profit, spiritual, healtlh, or educational meetings. It has an ADA-compliant bathroom with baby-changing table. The kitchen area consists of a sink, counters, and coffee-makers, but has no refrigerator or stove. Tables and chairs are available for use. Note that alcohol is not permitted in the adjacent Sanctuary (see alcohol policy above). To rent the Parish Hall, please contact Lois Lyman, 763-4170 or email..
Church Sanctuary
The church building was completed in 1821 as the town meeting house, and retains most of its charming original architectural features, including a rare second-floor pulpit. The church is blessed with a modern custom Trillium organ. Note that the music director must approve any outside organist hired for an event.
The sanctuary has original boxed pews with doors. Rather than a single aisle down the center, there are two aisles with pews on each side and in the center. There is a small raised "stage" area at the front of the church with furniture that can be moved out to accommodate concerts. The church holds 200 people in the downstairs* main sanctuary.
The sanctuary is suitable for weddings, funerals and memorials, christenings, concerts, and similar events. No alcohol, nor food or beverage other than water may be consumed in the Sanctuary. To hold an event in the sanctuary, contact the church at 763-3838 (there is an answering machine), Lois Lyman at 763-4170; or, for ceremonies, our minister, Rev. Elizabeth Barnum at 207-230-4037.
*We do not encourage seating in the upstairs balconies, because visibility is limited from there.